Posted by heymoe on March 31st, 2008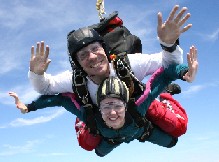 I'm thinking that this year is going to be the year I jump out of a perfectly good airplane. Does anyone else what to join me? I'm still researching Drop Zones but so far it looks like the closest one is Carolina Sky Sports located in Franklinton, NC. which is about 45 mins. from my house. Of course the jump will be a tandem jump where you are connected to an instructor who does most of the work and you're just there for the ride. The jump consists of about 60 seconds of free fall time at 120 M.P.H. and then about a 6 min. parachute ride back to the ground. Carolina Sky Sports charges $195 for the first tandem jump. It looks like there might be opportunities to get a 10% discount depending on the day of the jump.
If we get hooked and want to get our Class 'A' Skydiving license, the total cost will be ~$2,500 which consists of 25 jumps. After getting the license, jumps cost $24 + $15 if you need to rent the gear which seems reasonable after the initial training costs.
So if anyone else wants to join me in this adventure let me know.