Posted by heymoe on November 14th, 2007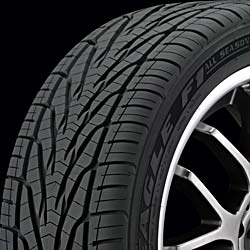 Well I finally broke down and bought some new tires for the Audi yesterday. The first set of tires I got with the Audi were Continental somethings and they did not last that long. If I remember right I just barely got a year out of them and only put at most 10,000 miles on them. The next set of tires I bought to were Avon Tech M550 A/S which I purchased from The Tire Rack. They provide a lot of information and customer reviews as well as their own in house testing of a lot of different tries. The other plus side is that they seem to have cheaper prices compared to buying them locally. This was my first time buying tires online and they made the process very simple. They have a list of recommend installers that you can search though to find one close to you and then ships the tires to the installer directly so all you have to do is schedule an appointment with the installer. You basically pay The Tire Rack for the tires and shipping and pay the installer to get them mounted and balanced. Any ways, the Avon's seemed to be an upgrade over the Continental's but toward the end of their life they got really noisy to the point that I thought I had a bad wheel bearing. The Avon's did last 8 months longer and I was able to get about 15,000 miles out of them which is better but I was expecting more.


So I spent about a week looking into what tires to get next. I originally was going to get four BridgeStone Potenza RE960AS Pole Position, I then switched to Pirelli PZero Nero M/S since a lot of people at Audi World recommended them. Then I came across a new tire from Goodyear called the Eagle F1 All Season. There were the same price as the Pirelli's and cheaper then the BridgeStone's and from the initial reviews seemed to offer the same level of performance plus had some new features that have trickled down from racing tires like carbon fiber reinforced sidewalls. Being that these tires went on sale a few months ago, there are not many high mileage customer reviews yet so hopefully they will do as well as the Avon's but I'm hopping better. I was going to buy the tires from The Tire Rack but got lucky and found a local dealer that quoted me $752 for four tires and installation which was around $30 cheaper then The Tire Rack and I could get them installed the same day. Goodyear also has a $50 rebate promotion on the tires so that was a nice bonus as well.
Any ways, I've only put around 35 miles on the new tires and the Audi is driving so much better now plus it no longer sounds like my wheel bearings are going bad. I have not pushed them yet since I want to get an alignment done first, which I have scheduled for Tuesday. Hopefully these tires won't let me down.