Posted by heymoe on January 19th, 2008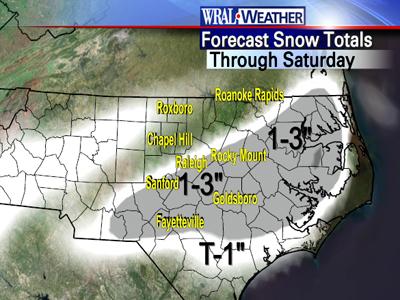 I'm hoping for 3 or more inches of snow in Raleigh myself.
Update: 1/19/2008 @ 2:40pm
Yeah! the first signs of snow just started. It looks like the cold air mass took a little longer getting here then they forecasted last night but it's finally here. Now it just has to start sticking.
Update: 1/19/2008 @ 8:00pm
What a tease. The snow did start sticking but only to the grass and other plant life. Nothing stuck to the roads, driveways, sidewalks, etc.. but I'm sure there will be black-ice everywhere in the morning. It looks like the 1-3 inches forecasted turned out to be a joke. I really wanted to take my car out and finally test the Quattro All-Wheel-Drive System out in the snow. Oh well, at least it snowed and it was more snow then we have seen in a while. Hopefully none of the snow on my property will be disturbed when I get up tomorrow so I can take some pictures of the house and the snow.