Posted by heymoe on July 5th, 2008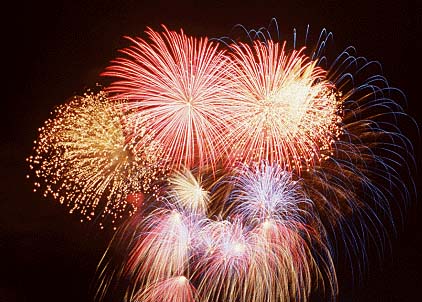 Well so far the only fireworks I've seen this 4th of July weekend are from Mother Nature. I headed down to the Raleigh fairgrounds in hopes of setting up the camera and make attempts at capturing the fireworks action but that pretty much failed more or less from the beginning.
I knew going down to the fairgrounds was going to be a mess with traffic and cars everywhere so figured I would take the motorcycle out so I can easily find a parking space up close. I check the weather about an hour before heading out and everything looked good then but I should have checked it before I left. A little over halfway to the fairgrounds it started to sprinkle and I could see lighting in the distance. When I was almost to the fairgrounds, maybe two exits away, I hit traffic and the rain was really coming down. At this point I figured the fireworks were canceled so I worked my way out of the traffic and stopped by a bar for a drink near the apartment I used to live in during college. I figured I would hold up in the bar until the rain stopped.
As luck would have it, shortly after getting my drink I got a call from the security company for my work informing me that the alarm was triggered. We being the good employee I am I figured I should head to the office, which was on the way home any ways, and make sure everything was OK. So I finished my drink which by that time the rain looked like it died down to a sprinkle again and head out. Once on the road again Mother Nature figured I was not wet enough and sent a tropical down pour my way. Of course when the down pour hit everyone on the road turned stupid and started to flash their emergency lights but instead of moving into the right lanes so other people who know how to drive in the rain could get by, they just formed a line across all lanes pacing each other blocking in everyone behind them. GRRrrrr.. I hate stupid drivers.
By time I got to the office I was soaked to the bone. My shoes were full of water and my leather motorcycle jacket must have weighted another 10 pounds. Luckily my camera and lens were still nice and dry in my backpack.
After spending about 30 minutes at the office verifying everything was secure (It looked like it was a false alarm), I got on the motorcycle and headed home. At this points I was looking forward to getting out of my wet cloths and relax to a movie or something. Well that plan pretty much we out the door as I turned into my neighborhood. The storm that I've been fighting my way through pretty much since I left the house knocked out power to my whole neighborhood. So after everything I've gone though just to see some fireworks, my 4th of July ended in the dark.
Any ways, the fairgrounds fireworks were rescheduled to the 5th and this time I'm just staying home. As of right now it looks like it was a good decision since it has been raining pretty much all evening. Actually, checking the local news site it looks like the fireworks at the fairground did go off tonight but they started an hour early so I would have missed them any ways. Oh well. Maybe next year I'll get to try and photography fireworks. Yeah!