Posted by heymoe on December 27th, 2008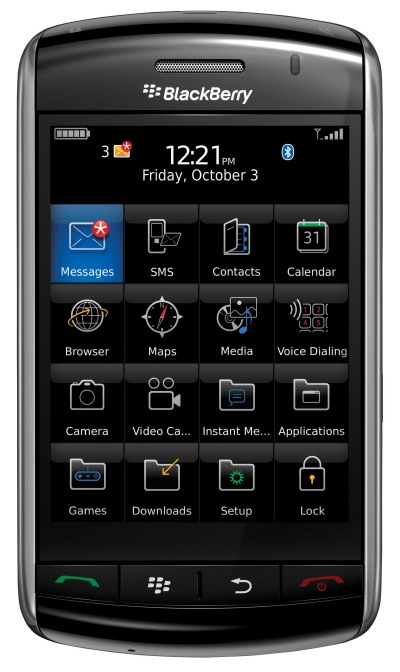 I was able to talk my company into upgrading my old Blackberry 8703e to the new Blackberry Storm a few weeks ago. The days leading up to its arrival I spent a lot of time reading the forums over at CrackBerry.com to see what I could learn about the new Storm, tips-n-tricks, hacks, etc..
When the day finally arrived I spent pretty much the whole day playing and trying out some of the things I learned from the forums. All was well until I started to play around with customizing my ring-tones. I went to make a change with one of the pull-downs when the Storm locked up. So I pulled the battery to reboot it. When it loaded the home screen it was locked up again and rebooted on its own again. So in less then 24 hours I some how managed to kill my first Storm by customizing my ring-tones. Yeah!
The next morning I stopped by the Verizon store and luckily they had some in stock. The customer service guy said they just received a new batch and this was the first day they still had some in stock. Once I got to work I was able to quickly get the new unit up and running.
The official version of code that Verizon support is currently v4.7.0.75 which was a big improvements over the version of code that the Storm first shipped with but it still has a lot of problems and bugs. I found out one the forums that there was a leaked version of newer code (v4.7.0.83) so I decided to test it out. Even though I only used v4.7.0.75 for a day or so, I was able to notice improvements in the speed / responsiveness of the device as well a fixes for some bugs I noticed with the Media Player. One of the bigger improvement was with battery life. Before the upgrade I had to recharge the Storm after about 20 hours of usage. After the upgrade the Storm lasted just about 3 full days before I had to change it again.
Any ways, even though I persoanlly wasn't running into any major problems with v4.7.0.83, a lot of other people on the forums were so when news of another leaked version hit the forums last Thursday, people were couldn't wait to get their hands on it.
So after waiting two days, v4.7.0.85 has finally been publicly leaked. It took me about 20 mins to Backup, Wipe, Install the OS and Restore my backup. So now I'm running v4.7.0.85 and so far I haven't really found any differences between v4.0.7.83 and v4.7.0.85. For anyone else wanting to take v4.7.0.85 for a spin here are some links where you can download it. Enjoy!