Posted by heymoe on February 18th, 2009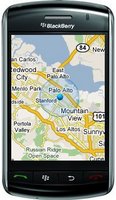 Some said it would never happen. Some said the programmers of Google Mobile Maps were idiots. Even some said it was all Verizon's fault. All I know is as of v3.0.2, Google Mobile Maps can now use the internal GPS of my Blackberry Storm.
No longer will I be located in the light blue circle of uncertainty plus now I can use the new Latitude feature that Google released a few weeks ago a whole lot easier.
Woot!